pmo365 is a powerful PPM solution deployed to your own Microsoft 365 cloud. Real-time data combine with best practice business tools, customisations, and integrations to drastically improve a range of project portfolio management functions.
Find out how pmo365 transforms each facet of project delivery, and provides the tools to streamline your portfolio management across the organisation.
What is Project Portfolio Management? (PPM)
Project Portfolio Management (PPM) is an enterprise-wide responsibility that encompasses a large variety of tasks, teams, and functions. It requires a multitude of approvals, gates, deliverables, and reporting tools, as well as the ability to monitor and manage performance over time to ensure that every project is on track. When it works well, PPM management increases enterprise efficiency and closely aligns all of your business activities with your organisational mission and strategic goals.
PPM software automates many of the business functions involved in project portfolio management, improving productivity through the use of collaborative tools and data visualisations.
Project Portfolio Management software is most effective when it can manage all of your enterprise data in one secure location, and supply real-time updates from all departments across your operations.
Among the many advertised PPM management tools, pmo365 stands out as a comprehensive and tailored enterprise solution. In fact, it's one of very few Microsoft preferred solutions, with over 64,000 users across Australia and New Zealand, the USA and Europe.
How to Choose PPM Software
Finding the right project portfolio management software can be a complicated task for any organisation with so many different project portfolio management tools out there serving different needs and expectations. So, you need to think carefully at what each package is really going to deliver. Here's some key considerations to look out for:
Does your project portfolio management software require moving your operations to an entirely new platform? (Note that resistance to change tends to be high).

Will you have complete control over your solution once it's done (is it a one size fits all package?), and do you have the ability to make customisations as your needs change?

Does it involve an up-front development fee, and how useful in practice are the apps and business tools being offered?

Finally, and perhaps most importantly, where is your enterprise data being stored, and can you rely on your provider's security?
As most organisations already use Microsoft 365, there is probably no need to move to a new platform to implement pmo365. Employees are familiar with its interfaces and, with the Power Platform's easy functionality, can quickly customise apps, flows, reports and connections. pmo365 also provides a comprehensive library of project portfolio management tools, built on 15 years experience working with industry.
What's more, pmo365 is a subscription only service, so you're not paying for time. Instead, we charge a single monthly subscription for everything. You retain ownership of the entire pmo365 library and all your data forever, even after your subscription expires. We will also tailor your solution to your organisation's exact requirements and help you to make any further adjustments as your organisation grows.
And, because pmo365 is deployed to your Microsoft Power Platform, all your data is kept in one secure location. That means that all ppm management data is instantly updated and available to your entire enterprise in real-time – delivering efficient, accurate and timely work flows with up-to-the-minute reporting
The Benefits of Choosing pmo365 for Project Portfolio Management
As a Microsoft Preferred solution, pmo365 deploys cloud-native Apps, Flows, Reports and Dashboards directly to your own Power Platform. In addition, a subscription to pmo365 gives you access to all product updates and new features as they drop, present and ongoing. We like to describe it as a Netflix subscription with unlimited content, except all the content is owned and retained by you on your Microsoft 365 cloud.
Furthermore, the Power Platform can connect to over 900 Microsoft and non-Microsoft applications, which means that virtually every single source of enterprise-level data is at your fingertips.
The result is a comprehensive PPM management solution that seamlessly consolidates all the different users and project methodologies on a single monthly subscription service. For the project portfolio management office, that means outstanding high-level visibility and control over the entire enterprise's operations.
Project Portfolio Management
-


A Guide to PPM Software and Tools
If you have been around the project management space long enough, you have most probably heard the term Project Portfolio Management (PPM). Though at first glance PPM may seem straight forward, the rapidly growing market and technological advancements mean there are always new practices, processes and tools popping up, making it harder to keep up with the curve.
But don't worry! We've put together a complete guide to help you navigate this exciting space so you can get the most out of your future PPM activities.
What is the difference between project management and portfolio management?
People can often confuse project/program management (PM) with project portfolio management (PPM). However, it is important to differentiate between the two as they have fundamentally different approaches even as some of their processes and tasks overlap.
Project and program management is mainly focused on the best ways to execute and deliver projects on time, within scope and within budget. They are much more focused on how to do projects the right way. Project managers are typically assigned a single project or program and ensure all due processes, milestones, and goals are met.
Project portfolio management has a higher-level perspective and is focused on doing the right projects at the right time. Their key goal is not simply to make sure a project or program gets to its finish line, but making sure all projects are aligned to an organisation's strategic direction. In the end, PPM cares about the value their portfolios bring to their organisation.
Paired together, proper PM and PPM ensures that organisations are doing projects right and the right projects at the right time in the right way.
Why Project Portfolio Management is Important
For large organisations with a large number of projects occurring at the same time, the flurry of activity and growth in projects can sometimes deceive organisations into believing they are making the most of their resources. Many organisations make the mistake of believing more projects lead to more value. However, many organisations have also encountered the issue that their strategic goals are not being reached, even as project numbers grow.
Project portfolio management acts as the critical process that bridges the gap between strategy and implementation. Through gathering and analysing relevant data from all projects within a portfolio, PPM is able to give organisations the big picture view of their past, current and future projects. This then allows organisations to make informed decisions that help them prioritise the right projects to get the largest beneficial impact. Through their key processes, PPM is able to shift organisations from simply maximising their portfolios to fully optimising their portfolios.
The Benefits of Project Portfolio Management
When properly executed, PPM can bring organisations a wide range of benefits which include:
1. Giving organisations a big-picture view
With PPM, organisations are able to understand their portfolio of projects in detail while also linking each project's outcomes back to the broader goals and strategic vision of the organisation. Getting a holistic view of all projects – past, current and future – allows organisations to also focus on the long-term instead of simply hitting annual or shorter term goals.
2. Ensuring objectives and projects are strategically aligned
One of the most important benefits of PPM is being able to ensure all activities can be traced back to the specific strategic objectives they are attempting to hit and quantify their exact value towards that objective. Traceability is one of the biggest issues faced by large organisations. Organisations may be able to see results but may struggle to understand where exactly it is coming from and how it is being achieved. If you have a winning recipe, you want to make sure you know what it is!
3. Improving your organisation's capacity planning and resource management
One of the key ways PPM helps optimise an organisation's portfolios is through efficiently and effectively planning and allocating resources. One of the biggest issues in any organisation is wasted resources. PPM significantly reduces the chances of this occurring by ensuring resources are allocated based on priority and are scheduled effectively and wisely to achieve their intended results.
4. Enhance your organisation's decision-making process
In order for PPM to be successful, it requires the gathering and analysis of vast amounts of data regarding projects across their portfolios. This intentional data collection allows the project management office (PMO) to properly define and track benefits and quantify the value of projects in an on-going manner. More importantly, all this valuable information will help key decision makers make informed decisions that are clear of any biases and personal preferences. This helps reduce the likelihood of 'pet projects' as project value can now be intentionally tracked and visualized.
5. Bringing higher degrees of productivity
PPM processes are always looking for new ways to be efficient throughout the entire project lifecycle. These efficiencies are not limited to typical project features such as costs, scheduling, resource management and such. Clear communication, accountability and process frameworks also make sure that team members aren't always scrambling for answers when unexpected things occur. Effective PPM may adopt governance frameworks that help standardize processes to make room for clear, repeatable process frameworks that lead to success.
6. Increasing your organisation's agility
With PPM being all about finding efficiencies, aligning projects strategically and improving productivity, it can have the added effect of making organisation's more agile as decisions can be made in a more efficient and effective manner with accurate, up-to-date data to back it up. In an economic environment where timing and agility is becoming more important than ever, this benefit is critical for organisation to become future-proof.
7. Improved your organisation's ROI
In the end, this is the most important benefit of PPM. The end goal of becoming more efficient, strategically aligned and optimised is to make sure your organisation is getting more value for their money. With effective PPM, your project investments will have a higher guarantee of achieving their intended results as they have been set up with systems, practices and environments that support their success from start to end. From the very first project idea to its completion, PPM is there to set organisations up for a win.
What are the Processes Involved Within PPM?
PPM covers a wide range of activity and processes. To be truly effective, PMOs need to have systems and practices in place that allow them to excel in these processes. Though not limited to the ones listed, the five key processes of PPM include.
PPM is all about picking the right projects at the right time and project pipeline management is the central process that allows PMOs to do this. Organisations often have plenty of ideas coming through, but it takes a proper effective process to filter through the ideas to find the golden nuggets that can take your strategy to the next level. Additionally, some project ideas are great but there may not be enough resources available or the timing may not be right. Don't let those ideas get thrown away. A PPM pipeline management tool can optimise this entire process by simplifying the idea gathering process, providing critical tools that help evaluate proposals and a streamlined approval process that ensures projects are timely.
Change Control Management
As highlighted above, one of the key benefits of PPM is its ability to improve an organisation's agility and ability to change. Through the holistic process of PPM, organisations gain the visibility and control that allows them to easily identify and prioritise change requests. These change requests can range from new operational processes to increase efficiency, new demand-based projects that need to be implemented quickly, new feature requests to keep up with competitors and many more.
Risk-taking is an essential part of any business. Without taking risks, a business cannot meet new heights and flourish. However, bigger risks do not always translate to bigger rewards. PPM helps organisations identify, prioritize and evaluate all the risks associated with projects within a portfolio, often using a RAID log, (Risks, Assumptions, Issues and Dependencies) and produce contingency and risk response plans to mitigate these uncertainties.
PPM risk management is also more than simply mitigating risks but also balancing out risks against potential upside. That is why it is important to accompany risk management processes with benefits management to make sure organisation's do not make decisions based solely on risks.
Proper cost management is one of the key ways organisations regain control over their finances by reducing wastages. The three main goals of cost management for PPM is to prevent budgets running over, to reduce unnecessary cost associated risks and provide future planning insights. However, the task of having to constantly estimate, allocate and control costs for all projects in a large organisation can be burdensome. It is critical for large organisations to have cost management software and tools that allow them to tackle three of the biggest challenges of cost management – inaccurate estimations, outdated technology and lack of visibility.
Resource management is often paired closely with cost management and as one of the key means of improving efficiencies within a portfolio. Resource management is the process that allows organisations to gain accurate projections of their resource capacity, allocate them to the most effective projects and track their ongoing efforts and costs. One of the biggest reasons for project delays and budget overruns is the failure to properly account for project resources dependencies and capacities. For PPM to be truly effective, PMOs often enlist the help of PPM resource management tools that support all their resource management activities from the ground up.
Project portfolio management in five steps
Now you know all the different processes that take place within the PPM, but how does it all come together? We'll walk you through the general five step process of PPM.
Step one: Clarify the guiding strategic objectives of the organisation
Before you start selecting any projects, an organisation first needs to know where they are going! This all starts from clarifying the guiding objectives that will form the strategic basis and justification for all actions moving forward. It is critical during this stage to decide what value means for your organisation and current strategy for achieving it. Measuring value is not always as simple as just financial growth: it can be much more abstract.
Step two: Gather and research proposed ideas
Project ideas and proposals can come from different streams within an organisation so it is important to have a standardised and simplified idea intake process that allows the PMO to easily gather, track and evaluate proposals. Don't underestimate the value of an open and simplified idea intake process. They not only handle a wide range and quantity of ideas but fosters an open culture that invites innovation and free thinking without wasting time in evaluation. PPM helps you capture the best ideas with the least amount of effort.
Step three: Selecting the best projects
This is where a big chunk of PPM activities occur. The main goal is to select projects that maximise the portfolio's value, optimise the use of current resources and balance all the identified risks and benefits. This goes beyond simply aligning projects to strategic objectives, to a legitimate calculation and quantification of their potential benefits in more detail, often calculated through a benefits management process. Some key questions to ask during this stage are:
How much will this project cost?

How long will this project take?

What are the expected returns or benefits of this project?

Are there enough resources available to complete this project?

What are the risks associated with this project?
As there are a wide range of processes and data to consider, from resource management to cost management and more, this stage becomes increasingly complex as multiple decisions are being made at once. That is why it is crucial for a PMO to have an effective, integrated and intuitive PPM software tool that allows them to easily access all the relevant data they need in one place.
Step four: Validate, prioritise and initiate projects
Once the PMO has selected the right projects, it's important to validate the entire portfolio of projects as a whole to make sure the collective mix of projects are not overly risky, too expensive, or too interdependent. An effective portfolio needs to be balanced, aligned with strategic goals and able to allow for potential changes. It not only has to be maximized and optimised, it needs to be adaptable and flexible. The four key factors to consider when validating, evaluating and prioritising projects include:
Inter-project dependencies that can cause delays

The knowledge and capabilities of the organisation

Resource constraints

Financial constraints
Once these factors are all accounted for and projects are prioritised, the PMO can begin assigning project managers to initiate the projects.
Step five: Managing and monitoring the portfolio of projects
The dream utopia is where projects go exactly as planned. The reality is that projects constantly change and evolve as they go. That is why it is important for the PMO to continually manage both ongoing projects and new projects being started as conditions change. During this step, key activities of portfolio managers include:
Gathering data and monitoring the performance of the portfolio

Identifying and resolving issues within the portfolio

Making necessary changes to steer the portfolio in the right direction - by either rescuing projects, re-scoping, canceling or introducing new projects.

Managing escalations and requests for changes within the portfolios composition

Ensuring all projects are aligned with the organisation's strategic objectives and evaluating/monitoring their on-going value to the portfolio.
Project Portfolio Management (PPM) Software and Tools
The wide range of activities and processes that contribute to up effective project portfolio management might appear daunting, and requiring resources, expertise and costs to make it work. This is where project portfolio management software tools save the day.
A PPM tool that is specifically designed to help centralise the management and maintenance of a project portfolios onto a single platform, becomes your 'single source of truth'. Their main purpose is to minimise overhead costs, manual effort, and excessive documentation via intuitive and easy-to-use software that simplifies, optimises and integrates all activities within your portfolio within one platform.
What are the most important PMO software features
Not all PPM softwares are equal. Though most will definitely improve your productivity and efficiency to a degree, don't miss out on these key features that will take your PPM activities to the next level.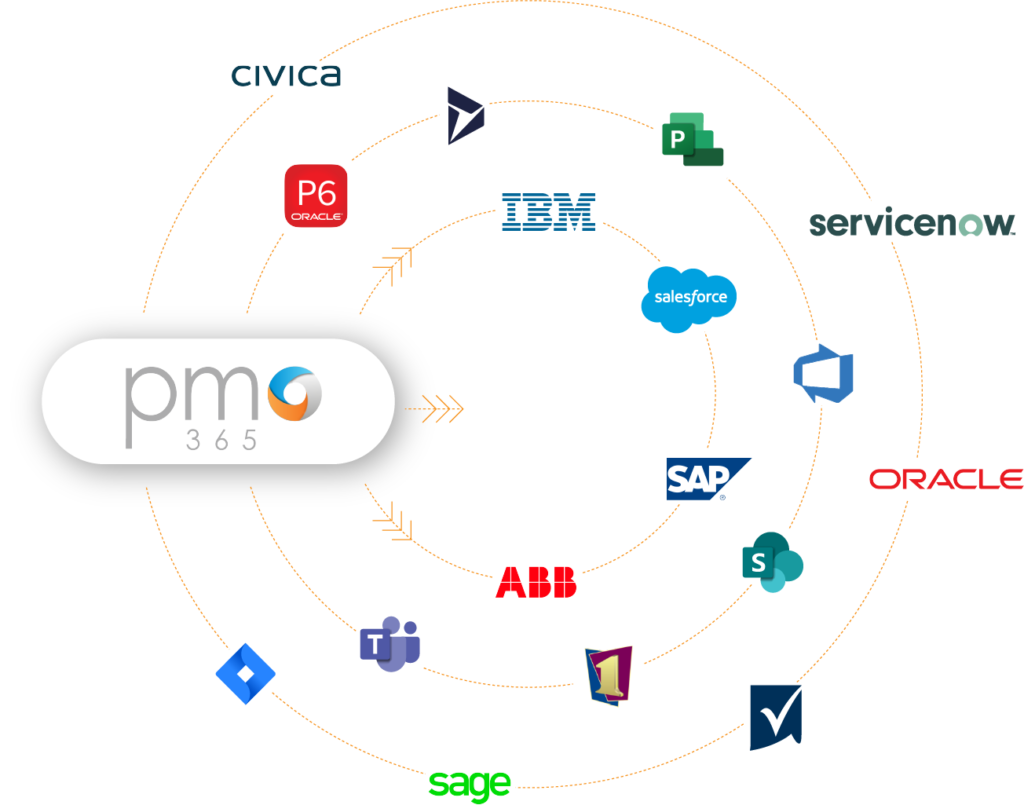 1) Fully integrative capacity
As the demand for education grows, so do the needs for physical assets. New hardware, buildings or even campuses might be needed. These types of projects, often called capital works projects, take on all the necessary processes within a project – ranging from risk management, cost management, resource management and more. With an effective PPM system, these processes can all be standardized, centralized and scaled up to projects of any size.
PPM softwares can also often be geared towards a specific project management methodology be it iterative methodologies like Agile or more classic waterfall approaches. These biases can often put limitations on how effective, yet flexible, an organisation can be. As organisations are beginning to adopt more hybrid methodologies, having an adaptable and integrative software platform is key.
pmo365 using Microsoft Power Platform – Power Automate and Datavers – solves all these issues. Firstly, pmo365 is able to completely integrate all your systems and apps onto your pre-existing tenancy. This means no more missing data, or having to work multiple apps for for critical information. Have all your data on one platform as your single source of truth and drastically improve visibility and control over your portfolio.
pmo365 supports different approaches and methodologies. If you use a Waterfall approach and use Microsoft Projects, no problem! If you use an iterative or hybrid approach and use JIRA or Azure DevOps, no problem too! Our softwares integrative capability means you don't have to migrate, coach and upskill all your employees onto a completely new system. With Power Automate, we can connect with just about any data source outside of the Microsoft ecosystem: JIRA, SAP, Oracle, Ellipse and ServiceNow to name a few. Click here for the whole list of applications to which we can connect.
In such a fast-paced and constantly changing environment, agility is key. For organisations that are geographically dispersed and constantly running, waiting on daily updates could mean missing out on valuable opportunities. Having all data and operations updating in real-time maximises team productivity.
pmo365's software is cloud-based and instantly updated: no more waiting for daily, weekly or monthly reports – it's all there in real-time.
3) Automated dashboard and reporting
A good PPM software will display all the most relevant summary information you need on your primary page in the form of a dashboard, with the ability to drill down to the detail as required.
Using PowerBI, we introduce an automated enhanced dashboard engine that you can configure, update and send to other team members for quick and accurate reporting. We keep all your key reporting elements in one place so you don't have to go hunting through different data sets constantly to get the most relevant information in your hands. Dashboards are always up to date, streamlining the process, and relieving project managers of time-consuming manual report productions.
4) Predictive Analysis Tools
A good PPM software should offer predictive and scenario-generating tools. Sadly not all do. With pmo365, you gain access to a whole spread of useful tools that allow organisations to identify, evaluate and respond to circumstances in the most effective way possible.
5) Optimising your Resource Management processes
An effective PPM software should allow you to easily manage and allocate staff, equipment and materials that are necessary for the successful running of projects. pmo365's resource management tool allows you to easily track, manage and visualise your resources capacities and availability. Our simplified heat map dashboard allows you to quickly identify and allocate resources to where they are needed.
Pair with our software's integrative capacity, and we are able to integrate resource management directly with your schedule and cost management activities so project managers don't need to go back and forth between different applications.
6) Fully integrating your Cost Management
One of the biggest challenges for effective cost management in the PPM is the lack of integration between the cost elements (or work breakdown structure) at the project level and the ERP softwares used. This lack of integration can mean that key decision makers are missing the critical data such as cost estimation changes over the span of projects. This might lead to projects being cut either too early or much too late because of outdated and inaccurate data.
pmo365 is able to fill this gap between higher level lack of visibility and on-the-ground real-time data through its seamless integration of your ERP system and your cloud stack with the help of Microsoft Flow Connectors. Read in more detail why this feature is game-changing for your organisation's cost management activities.
Properly managing risks is one of the most important tasks of a PMO and a PPM software can be your knight in shining armour. An effective PPM software should have the proper tools and channels that allow teams to easily identify, analyse and mitigate risks based on their priorities and severity.
pmo365 allows you to easily control your risks through our RAID logs. RAID logs enables managers to log, document and track risks, assumptions, issues and dependencies associated with a project. Additionally, our risk rating system makes it easy to identify which risks need to be addressed first.
We all know scheduling projects is one of the most excruciating processes as you have to juggle a wide range of variables to make it work. Team members availability, project dependencies and resources all have to perfectly fit together. PPM software helps streamline this process through easy to use timeline management tools that allow you to plan, plot and reconfigure project schedules on an on-going basis.
With pmo365, we are able to not only clearly visualise project timelines, but also have access to historic data and real-time updates that elevate your project schedule planning and tracking activities.
9) User-friendly interface
There's no point in having such capable software if no one can use it! One of the biggest hurdles to successfully implementing any new system is getting users to use it. Teaching and training is key. However, a user-friendly and intuitive platform helps make this easier. With interactive dashboards and clear interfaces, pmo365 softwares makes the transition to the new system as pain-free as possible. Before picking the PPM software for you, make sure that you really test how easy and intuitive the software can be. Just because they have pretty dashboards, does not mean they can properly deliver to your team's unique needs or support in a way that is practical.
10) Collaboration and communication capabilities
One of the key means of achieving better results within an organisation is through improving collaboration and communication between teams. PPM systems, through their integrative and centralised features, often come with in-built collaborative tools that allow for seamless inter-departmental collaboration in real-time. They often come with extended features that allow you to form distinct channels with specific teams to share relevant data with the right people. This feature is critical so all information, communication and activities are kept on one platform and avoids the cost (and complications) of using an external collaboration tool.
Do you need help with PPM? pmo365 is ready to solve all your PPM problems!
If you've looked through this whole page and thought that there may be some places your organisation can improve its PPM performance, then take a look at pmo365's features and capabilities in our solution guide.
Maybe you've noticed some bottlenecks within your decision-making (like project approvals) or your current PPM activities just aren't making enough use of the current software available. Whatever your PPM problems, we'll have a perfectly tailored PPM solution to meet your organisation's needs.
If you want to know more about how pmo365 can revolutionise your PPM activities, make sure to book a free trial and speak directly with our PPM experts.
Our partners
We've worked with