Enterprise Project Management Office (EPMO) Software
Enterprise Project and Portfolio Management (PPM) provides greater visibility to stakeholders on the progress of all project portfolios. This often involves sourcing and managing project data from various departments or business units.
To make the task easier, pmo365 have developed an EPMO project management solution. This solution updates all your enterprise data in real-time, adapting to every work environment, and providing high-level visibility and control over your entire portfolio.
In addition, this secure, cloud-native solution deploys to the Microsoft Power Platform. Therefore, there's no need to adopt a new platform if your organisation already using Microsoft 365. Users can enjoy the accessible interface, but the deployment of pmo365 to the Power Platform means integration between pmo365 and with non-Microsoft software applications is easy. This ensures there is instantaneous, real-time data updates across the entire enterprise.
The Enterprise Project Management Office (EPMO) has oversight over an organisation's entire portfolio of activity. It exists to optimise performance and keep key stakeholders informed on progress. Furthermore, EPMO project management ensures that there are sufficient resources to accomplish organisational goals. By doing this, it prioritises projects according to its level of strategic alignment. The EMPO framework also manages any risks or issues, tracks performance, and monitors the realisation of benefits acquired from each project both during and after its delivery.
What is an EPMO Software?
EPMO software is any enterprise-level digital solution that is used to manage and track the organisation's portfolio of projects. The advantage of digital EMPO frameworks, like pmo365, is that they store all your project data in one location, rather than leaving it spread across many different applications. As a result, stakeholders can collaborate more effectively and share important, enterprise-level data in a timely way.
pmo365 is not a SaaS product. It is an intutive, enterprise-level solution deployed to Microsoft's Power Platform. There is no custom writing of code and no up-front fee—just a monthly subscription that provides lifetime access to its extensive library of Apps, Flows, Reports, and Dashboards that have been developed from over 15 years of experience in industry.
Benefits of Choosing pmo365 for EPMO
pmo365 integrates with all your existing applications, while providing high productivity tools that can be configured to the needs of each business function. That means a quick implementation of the solution in your organisation, with customisable apps that enhance collaboration, intuitive data visualisation, and stunning enterprise-wide visibility, backed up by 24/7 support and training.
Enterprise Project Management Office Guide
Most people involved in the project management realm are aware of PMOs, but less are familiar with what an EPMO is, let alone how to set one up. Gartner predicts that by 2021, 50% of large organisations will have implemented an EPMO. We'll answer all your key questions about EPMOs in this article, and highlight just how much value they can bring to your organisation.
The difference between EPMOs and PMOs
Though their activities may seem to overlap, EPMOs are different from PMOs because of the level they operate. While traditional PMOs operate on tactical and operational levels, and therefore are focussed on managing project things right, EPMOs operate on a strategic level. Subsequently, members of the EPMO are primarily concerned with selecting the right projects. Often, EPMOs report directly to the C-suite, or directors, and so they have more authority to control portfolios, programs and projects running across the enterprise. Evidently, then, EPMOs complement traditional PMOs, and therefore do not eliminate the need for project, program or departmental PMOs.
Organisational structures of PMOs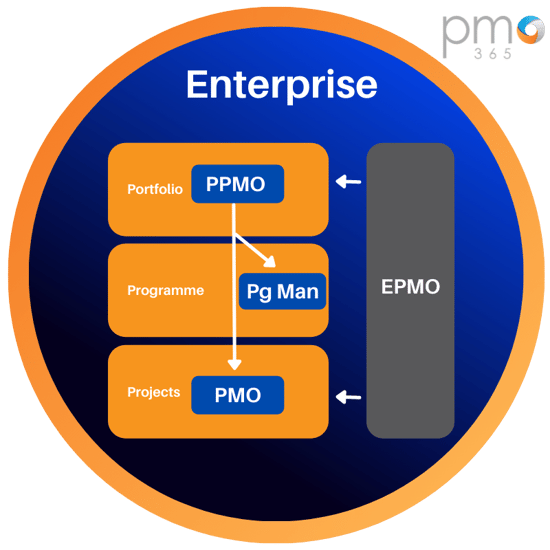 A way of visualising the differences in PMOs is presented in the graphic above. PMOs function on every level of an organisation's operations, both vertically and horizontally.
At the project-level, we have the traditional project management office (PMO). This can both work as a temporary or permanent function of the organisation, and is focussed on ensuring the everyday activities of projects are fully optimised. As a result, their main purpose is to make the job of project managers as easy and smooth as possible. A step above that is programme management offices (PgMO or Pg Man), who are concerned with maintaining health with programmes.
Running concurrently to these two offices is the project portfolio management office (PPMO). They ensure the health of overall portfolios is positive.
While the various office other than the PMO effectively cover an organisation's vertical operations, the EPMO is positioned to ensure all practices, frameworks, tools, and processes are maintained horizontally. Therefore, their efforts to streamline processes will affect the entire organisation. Some make the mistake of dubbing EPMOs as PPMOs. However, the critical difference is the holistic scale at which they function. Many large organisations often having multiple PPMOs, but will only have one EPMO.
Challenges of Traditional PMOs
So, what are the challenges faced by traditional PMOs that the EPMO addresses?
How to Choose Between a PMO and an EPMO
Though EPMOs usually deliver benefits, it may not always be completely necessary nor advised for organisations to implement them. There are many factors that can affect an organisation's decision to implement an EPMO such as the organisation's size, industry, complexity and culture.
A PMO is typically set up to manage and achieve project-specific deliverables at a project or program level. The overall effectiveness of the PMOs capabilities lies in their ability to trace back their activities to the organisation's overall success. However, here lies one of the key reporting and management gaps and is exactly what the EPMO aims to address.
Your organisation may need to implement an EPMO if it suffers from:
Traditional PMOs in large organisations tend to work in silos. This leads to a lack of communication, inefficient resource allocation and widespread operational inefficiencies.


Due to these siloed operations, projects in traditional PMOs are often started from the bottom up. This approach, when tackling problems faced at the program and portfolio level, can result in strategic disalignment.


The role of the PMO can result in the PMO being limited in showing the big picture to key decision makers and directors. This lack of visibility to executives can have the added impact of reducing leadership buy-in to the PMO's initiatives and activities.

With different PMO teams running their own processes and practices, the organisation may lack complete standardisation within their project execution processes, leading to future inconsistencies and inefficiencies.


Traditional PMOs are often uninvolved in the overall demand management at an organisational level. This makes it difficult to effectively forecast the organisation's future demand pipeline
What are the benefits of an EPMO?
Now that we've identified the clear differences between an EPMO and PMO, let's define the benefits of an EPMO. Here's a few:
Improves strategic alignment between the business and projects
At risk of repeating ourselves, the key point of EPMOs and project portfolio management activities is not simply to maximise your resources, but to optimise them for the best results. There is not intrinsic link between more projects generating greater value. Research by the Project Management Institute shows that EPMOs are able to improve strategic alignment services by 23% and portfolio reporting services by 20%.
Builds greater leadership buy-in
The link between leadership buy-in, an EPMO, and successful PMOs may not be immediately apparent. Peter Taylor in his book 'Leading Successful PMOs' states that one of the biggest challenges of a PMO is making the whole organisation buy-in to the PMO's function and needs. Key decision makers and directors are also key culture setters. If a CEO is not onboard with the PMO and their goals, they're never going to receive the trust needed to excel. The EPMO critically gives directors the necessary visibility to justify their support for the PMO and push for their agenda. Getting your key decision makers on board is critical!
Optimises an organisation's resources and portfolio
One of the key functions of the PMO is to make sure resources are being allocated in the most efficient and effective manner. This should based on priorities, schedules, and budgets of the various projects. Being able to effectively coordinate the different moving parts of multiple projects is one of the key benefits of a PMO for large corporations. EPMOs not only manage how the projects are run to increase organisational efficiency, but also select which projects should be commenced. EPMOs have the duty of communicating and working closely with directors and key decision-makers to make strategic decisions that optimise the portfolio holistically.
Better communication, collaboration and coordination across departments
Say good-bye to departmental silos! EPMOs act as the overarching central hub that facilitates knowledge sharing and prevents teams from having to constantly reinvent their own practices. They help gather, identify, develop and implement the most effective project management best practices. From there, the EPMO has the responsibility of implementing them across the organisation. This encourages communication, collaboration, and coordination, as processes are the same across the organisation.
Gives organisations the big-picture
EPMOs are uniquely positioned to enable key decision makers and directors to have a clear understanding of what is happening within their portfolio of projects while also being able to link each project's outcome back to their broader strategic goals. By getting a holistic view of all projects – past, current and future – EPMOs enable organisations to focus on the long-term instead of simply hitting annual or shorter term goals.
Enhances the decision making-process
The EPMOs key job is gathering and analysing vast amounts of data regarding projects occurring across the enterprise. This process of intentional data collection allows the EPMO to properly define and track benefits. Consequently, they can quantify the value of projects on an on-going basis. More importantly, this valuable information will help key decision-makers make informed decisions. This helps reduce the likelihood of 'pet projects' being selected, as project value can now be intentionally tracked and visualised.
Standardises processes across the organisation to improve organisational efficiency and effectiveness
EPMOs develop and implement governance frameworks across the organisation. A well-developed framework should include clearly define responsibilities, accountability and mechanisms of oversight for projects throughout the entire organisation. Standardising processes across an organisation will immediately reduce costs, and improve traceability of success or failure. From this collected data, EPMO members can analyse processes and streamline them, eventually resulting in repeated implementation of successful systems. The job of the EPMO is to maintain consistency in project executions to facilitate communication and collaboration among teams, and ensure more projects are being delivered on time, within budget, and within scope.
Enhances your risk management activities
Risk management is an essential part to any business. However, taking bigger risks does not always result in bigger rewards. EMPOs helps organisations identify, prioritise, and evaluate all the risks associated with projects within a portfolio, often through a RAID log. Then, organisations can produce contingency and risk response plans to mitigate these uncertainties. The EPMO does more than just mitigate risk: it must balance risks against their potential rewards.
Increases your organisation's ROI
In the end, this is the most important benefit of the EPMO. The end goal of becoming more efficient, strategically aligned, and optimised is to make sure your organisation is generating the most value for their money. With an effective EPMO, your project investments will have a higher likelihood of achieving their intended results. This will become particularly apparent as they set the organisation with systems, practices, and environments that support project success from start to end. From the very first project idea to its completion, EPMOs are there to set organisations up for a win.
Our next EPMO Webinar starts in:
What are the Roles and Responsibilities of an EPMO?
EPMOs have to wear many hats and juggle a wide range of activities. Below we list out some of an EPMO's most critical responsibilities. These include:
Three core functions within asset-related portfolios
Strategic Management

: EPMOs help facilitate the development of strategic plans and tactical master plans as well as ensuring that all portfolios, programmes and projects are strategically aligned.

Portfolio Management

: EPMOs are in charge of defining initiatives as well as facilitating and supporting project and programme selection and prioritisation according to the strategic plan.

Project governance and process analysis

: define and implement governance frameworks across the entire organisations, vertically and horizontally, and continually analysing processes to better optimise them.

Benefits management

: EPMOs ensure that benefits are identified, justified and achieved throughout the portfolio.

Communication and stakeholder management

: EPMOs ensure that stakeholders are constantly engaged and their expectations are met.

Performance management

: EPMOs are tasked with increasing an organisation's performance by providing necessary consultancy to improve processes, defining and controlling KPIs and providing data and reports to effectively communicate performance to key decision makers.

Cost management

: EPMOs are in charge of applying effective cost management measures to ensure projects are properly financed and costs are efficiently and effectively managed.

Resource management

: EPMOs are responsible for making sure the right people are allocated to the right projects. This entails properly gauging resource capacity and availability, recruiting the right staff and managing team conflict.

Risk management

: EPMOs must access the most accurate and up to date information to appropriately identify, evaluate and mitigate all risks within their portfolios.

Mentoring and Coaching: EPMOs are tasked with providing all the necessary resources, training and mentoring for program managers, project managers and staff to be able to make the most out of the EPMOs practices and processes.
It's important to note that just as no two organisation's are alike, neither are the best approaches to EPMO. There is no one-size-fits-all approach to setting up and running an effective EPMO. However, organisations can pull from a wealth of trusted resources, and through experience, build their own best practices. Self-determined best practices are formed and evolve by balancing all the above mentioned roles and responsibilities into a single working framework depending on an organisation's unique context and needs.
1. Positioning of EPMO within an organisation
Don't let your EPMO be left as a fancy ornament. EPMOs need to be intentionally positioned, endorsed and supported to ensure they have the proper authority to make enterprise-level changes. EPMOs typically report directly to a director or C-Suite member. Make sure the EPMOs strategic-level position is clear and fully utilised.
2. Effectively collaborating with other PMOs
EPMOs can sometimes be perceived as barging into the territory of other PMOs in the organisation. It needs to be clearly understood, communicated and maintained that EPMOs are there to complement and support the work of PMOs.
In a similar vein, executives should not perceive the EPMO as barging into their territory. It must be clear that EPMOs are there to support leadership by giving them the critical information to make key decisions. EPMOs should be seen as a complimentary support service for the organisation's leadership rather than overlapping their responsibilities.
4. Establishing the EPMO as a separate business function
It is important that EPMOs are not drafted under any other business function or department. EPMOs are meant to be functioning outside departmental silos, acting as the overarching enterprise-wide control center that is not biased to a single department.
5. A clear organisational structure that supports the EPMO
In a similar vein as the previous point, establishing a clear chain of command and flow of communication is critical to prevent potential bottlenecks. EPMOs add another layer to the organisational structure so it must be clearly defined who they report to and who reports to them. Without clearly defined roles, responsibilities and structures – EPMOs end up adding the bureaucratic processes they aim to reduce.
6. Getting qualified and experienced talent on your EPMO team
EPMOs handle a wide range of higher level activities and require experienced team members to be truly effective. Having team members who have project management expertise and business acumen will be critical. EPMO activities are not limited to just analytical and numbers-based skills as there are a wide range of crucial soft-skills they need to excel. Have a look at the five most important soft-skills we believe every PMO leader needs to succeed.
What is it like working in the EPMO?
So you're sold on the benefits of an EPMO and you want to establish one. Great! But how do you start forming an EPMO? Who do you need, what type of roles will they cover and what skills do you need to look out for? Some thoughts below:
Now it would be nice if we had a clear cut list of every team member and role you would need, but as we've always mentioned, there is no one-size-fits-all model to PMOs and so the exact roles you need may vary depending on your organisation's needs. Through our research, we've found there are four distinct roles within any PMO – directors, managers, analysts and coordinators as well as trainers and coaches.
The EPMO director or Head of EPMO is the central overseer for the planning, funding and resourcing of an organization's programs and projects. They often work directly under the C-Suite and play a significant role in strategic planning and execution. Directors play a critical role of ensuring key stakeholder expectations and requirements are being met.
In large organisations, they typically coordinate with multiple portfolio managers within the organisation to ensure all programs and projects are moving in the right direction. EPMO directors are not only presenting accurate numbers they also need to ensure cultures, frameworks and practices are in place which foster the most success and are thus the spearheads of effective change management within an organisation.
EPMO managers have the unique role of being the managers of managers. Though in the past it may have been rare for a PMO to maintain and manage its own staff, the increasing shift away from functional organisation structures has led to more centralised project management expertise within the PMO itself. The most successful organisations today are those with EPMOs that effectively manage their project managers and project support roles.
3. EPMO Analyst and Coordinator
EPMO analysts and coordinators are there to support the EPMO director and managers gather all the relevant data they need to do their jobs. An analyst will ensure project metric and statuses are always readily available for review and are dealing with any red flags. Coordinators will help with the nitty gritty communication, collaboration and allocation of resources to different teams and departments to carry out the overarching strategy.
4. EPMO trainer and coach
Change management is a big responsibility of the EPMO and with change comes the need for training and coaching. Though this role may not be a permanent, it has a significant influence on the effectiveness of change management initiatives. It is important that training is clear, directive and detailed to minimise any potential confusions down the line. Strong plans and direction make the backbones for effective change.
What are enterprise PMO skills?
As EPMOs have a distinctly different focus to normal PMOs, they also require additional skills that are specific to regular PMOS. Though some of these skills may overlap with PMO skills, the most essential EPMO skills to look out for include:
Stakeholder engagement and management
The EPMO has the essential role of communicating and managing stakeholder expectations and requirements. As a EPMO team member, it is critical to be able to effectively identify the needs of key stakeholders, ensure that realistic expectations are set, mitigate any resulting changes and communicate it effectively to all relevant parties.
Some organisations may have distinct portfolio managers that can handle this key job, but in cases where there is none, EPMOs may have responsibility for aspects of portfolio management. As the central hub tasked with executing strategies, understanding the exact condition of the portfolio(s) becomes invaluable. Portfolio analysis skills include being able to calculate the optimal strategic value within an organisation. pmo365 offers handy tools that help simplify all your portfolio analysis related calculations be it calculating efficient frontiers or Monte Carlo simulations. Such valuable tools need people to drive them.
Business management and processes
Knowing how the organisation functions from inside-out is key to identifying all the most effective ways to implement change that can lead to genuine results. That is why it is essential for members of the EPMO to understand general business processes and management practices and tools so they can make the most out of new emerging practices and implement them effectively within their own unique context.
EPMOs act very much like project managers on a much higher portfolio level. EPMOs are constantly planning, coordinating, communicating, analysing, reporting and executing tasks and activities. So all the same critical skills of resource management, schedule management, cost management, and much more become the very foundations of an effective EPMO team member. pmo365's intuitive platform integrates and streamlines all these activities onto a single platform. Read all about how we can revolutionise your program management activities here.
Leadership and communication skills
Just because the EPMO may seem like a more numbers focused PMO, it does not mean that hard technical skills alone will get the job done. Rather, soft skills are equally and sometimes even more important.
Leadership skills are particularly important in the EPMO and are not simply reserved for the director. As the strategic hub of an organisation, employees are looking to the EPMO for direction and stability when things are shifting beneath their feet. Every team member is an extension of the PMO itself and needs to exhibit the level of leadership the team as a whole is meant to represent. If employees cannot trust your team members ability to lead, your entire EPMOs ability to lead might come into question.
Additionally, coordinating and managing the whole breadth of projects within an organisation needs continuous communication. Communicating effectively, clearly and concisely to all necessary parties is critical. It is important to note that communicating is not overloading people with information, it is largely about listening.
pmo365 helps you start your EPMO dream team
At pmo365, we love everything PMO. So if you want to establish your EPMO, you know we'll be supporting you every step of the way! We want to equip you with everything you need to establish an effective and successful EPMO. That's why we've put together a free downloadable guide to finding your next PMO star player.
But we don't stop there! We know how hard it can be to find PMO talent that fits the exact needs of growing EPMO teams. The EPMO's staff are key that's why we made a free PMO job platform that connects you with quality PMO talent out in the field. Post your job today!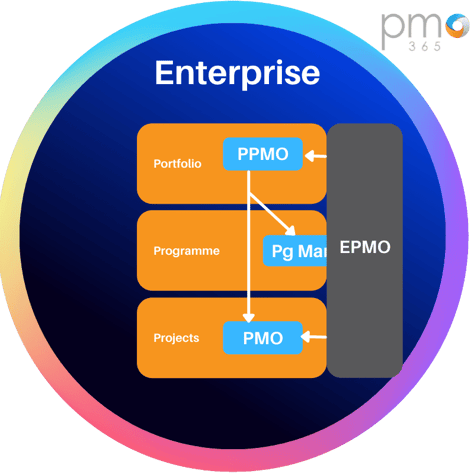 How pmo365 helps your EPMO
Here's a quick list of the many ways we can help your organisation's EPMO. We help by:
Real-time information
Providing all key stakeholders and decision makers the necessary visibility and control to make informed and timely decisions.
Reducing Overheads and admin costs
Reducing all your overheads and removing all your admin costs through our intuitive, easy-to-use and efficient software.
Integrating business activities
Integrating all your organisation's activities onto a single platform, you own 'single source of truth' for all your EPMO activities.
Control over all your project and portfolios
Giving complete accessibility and control over all your project and portfolio management activities from resource management to cost management to portfolio analysis and much more.
Complete training & support
Providing all necessary training, learning materials and methods to up-skill users to be able to use pmo365 in the most efficient and effective way
Matching PPM Maturity to PPM Packages
Matching your PPM maturity and needs with our unique PPM packages, all on your grounds. No lock-ins and no-set up.
If you wanted to see for yourself all the many ways pmo365 can revolutionise your EPMO's activities, make sure to book a free 30 minute trial and speak directly with one of our PPM experts!
Our partners
We've worked with