If projects are the vehicles for business strategy, project managers are the drivers that help businesses get to where they want to go. In that case, how to you become a capable driver to get your organisation to the sustainable finish line? An easy way is to become a certified sustinable project manager.
In this blog, we'll outline why we need sustainable project managers, what their role entails. Then we'll look at how to become certified as a green project manager.
Why do we need Sustainable Project Managers?
As businesses begin incorporating sustainable practices, it may seem unnecessary to have project managers who specialise in sustainability. However, every project manager being a 'sustainable project manager' is not yet the industry-norm. Until it is, we need project managers who know how balance projects being both effective and green-friendly.
Executing projects sustainably is no easy feat. Environmental standards, legislations, and compliances continue to grow, and it's up to project managers to create and manage projects within those constraints. As well as keeping the 'iron triangle' of project management (time, cost, and scope) balanced, project managers now have to consider the environmental and social impact of their activities.
The Evolving Role of Project Managers
Many organisations expect project managers start managing sustainability and accountability concerns without the proper tools, knowledge, and frameworks. Unfortunately, this is setting organisations up for failure. In fact, surveys showed that in 2016 only 2% of sustainability programs were successful.
In addition, project managers have new responsibilities over their project's sustainability efforts. Project managers need to identify and implement sustainability measures, as well as report the successes of these measures to senior management.
If project managers are the drivers of sustainability, then they have to be equipped with the right skillset and frameworks. As the role of the project managers continues to evolve, they will need to develop themselves as sustainability specialists. It makes sense that organisations who want sustainable projects will value project managers with this skill set.
What is a Sustainable Project Manager?
There isn't a standard definition for a sustainable project manager. However, we can loosely define them as project managers who apply sustainability theory and approaches.
If we adapt Silvius and others' definitions of sustainable project management, a sustainable project manager:
"plans, monitors and controls the delivery of a project with consideration of the environmental, economical and social aspects of the life-cycle on the project's resources, processes, deliverables and effects. They aim to realize benefits for stakeholders, perform in a transparent, fair and ethical way that enables proactive stakeholder participation."
Likely, the definition of a sustainable project manager will depend on the sustainable project management framework of your organisation. No matter the choice of framework, there are five general characteristic of a sustainable project manager:
They apply the Triple Bottom Line perspective that actively considers people and the planet in addition to profit.
They apply sustainability principles throughout the entire project life cycle.
They actively engage and collaborate with stakeholders with the aim of accommodating their needs rather than simply managing expectations.
They take responsibility for all project-related actions towards society and the planet.
They consider both short-term and long-term implications of all project activities and outputs to the greater planet and society.
Traditional Project Manager vs. Sustainable Project Manager
The definition and characteristics we've outlined are broad and overarching. So, how do the responsibilities, activities and approaches of a sustainable project manager differ from a traditional PM? How does applying sustainability philosophies actually impact the day to day activities of project managers?
We have listed down a few key ways traditional and sustainable project managers differ in their project processes and practices.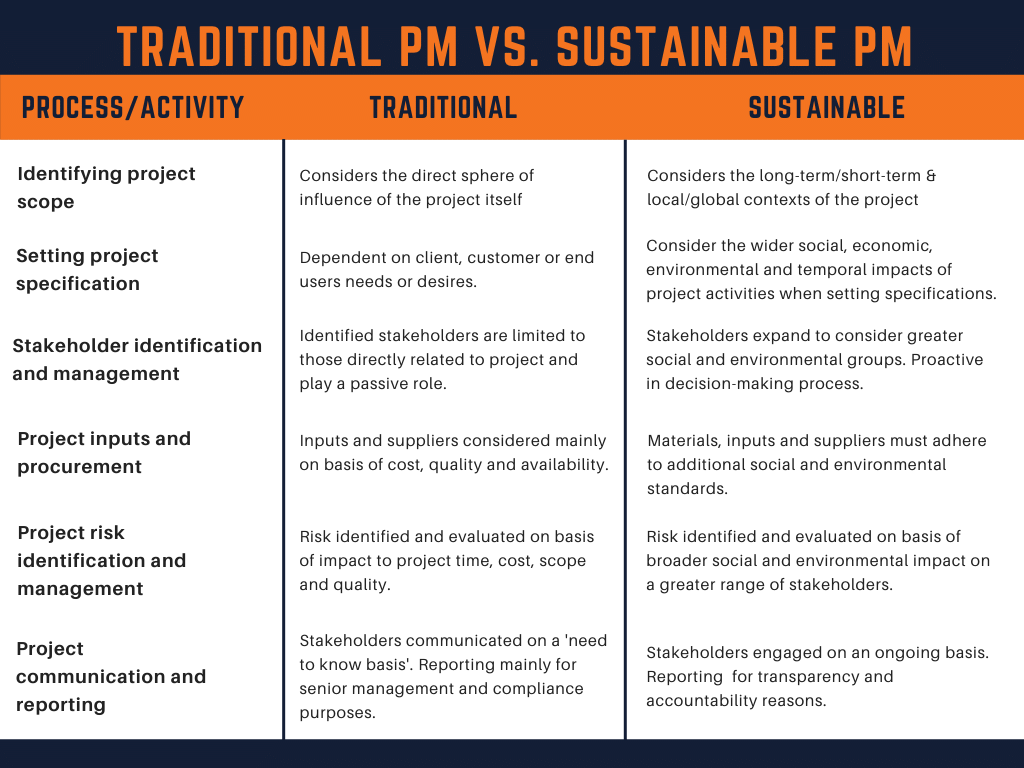 Why should you become a certified sustainable project manager?
While organisations may not require you to become a certified sustainable project manager, it's worth looking into. Some benefits of getting certified include:
Setting yourself apart from project managers in the market
Increasing job mobility and choice in the future
Entering an established international register of certified project managers
Providing proof of your skills and knowledge in your application of sustainable methods in projects
Equipped to align your practices with organisational sustainability strategy, and demonstrate this to senior management
How to get certified: Green Project Management Certifications
There is currently one official sustainable project management certification in the market, hosted by GPM Global (Green Project Management). GPM's various certification programs have been developed by a board of project management professionals and sustainability experts in the field.
The Green Project Manager programs are all built in compliance with ISO 17024 and GAPPS standards. This ensures that your certification will be relevant, valuable and internationally recognised. In addition, the GPM program is available in various languages, so it's widely accessible for everyone.
The three types of Green Project Manager Certifications
All GPM certifications are built upon the PRiSM method and the P5 Standards for Sustainability in Project Management. However, they come in three different levels, each with varying degrees of complexity and knowledge and expertise pre-requisites. The three types of certification include: GPM-b (Basic), GPM-s (Specialist), and GPM-m (Masters). We break down the type of certification, prerequisites for entry, and costs for each type.
GPM-b (Basic)
This is the most foundational certification offered by Green Project Management. It is a knowledge-based certification which enables individuals to demonstrate their knowledge through sustainable practices and philosophies.
It aims to give individuals the knowledge to maximise sustainability efforts within the project lifecycle. This knowledge will improve the construction and delivery of project deliverables, and assist the PM to implement measurable standards. As a result, the projects created by the PM will account for the environmental and social impacts of project activities.
As a foundational certification, there are no prerequisites to entry, though specific prior credentials and learning can be granted. If you'd like to check whether you can get prior learning recognised, look at this website. To achieve this certification, you must pass a 150 multiple choice question examination with a three hour time limit.
Finally, the GPM-b certification application costs USD 199.
GPM-s (Specialist)
This certification is an expert-level international certification that recognises an individual's knowledge, skills, and competence implementing that knowledge. This certification is suitable for individuals that have shown technical competency in sustainable project management, and meet the prescribed standards of performance.
Unlike the prior level of certification, GPM-s has specific experience requirements. If you possess a Bachelor's degree, it requires you have four years or 6000 hours of experience working as a Project Manager, Program Manager, or a Director in the past twelve years. Without a Bachelor's degree, the required experience increases to five years or 7500 hours.
To achieve this certification, the GPM will assess individuals through a written case study. They must achieve a minimum score of 35 using GPM's Management Complexity Rating worksheet. Additionally, assessors may require a video-interview to get additional evidence to make their final decision.
The certification is also time bound and is valid for five years. The GPM-s certification costs USD $499 for GPM members and USD $699 for non-members.
GPM-m (Master)
This is the highest credential you can achieve. The GPM-m is designed for PMs and directors, and is an internationally recognised certification for accomplishment in sustainable project management. As a master's level certification, it comes with stringent experience requirements and prerequisites.
Firstly, to apply for GPM-m an individual must hold either GPM-b or GPM-s certification. In addition to that, the application must hold a Bachelor's degree, and have earned least 200 continuing education points. Finally, the experience requirements are as follows:
If you have a Bachelor's degree, you will require eight years of work experience in a project or program manager or director role, with at least four of those being in the past twelve years.
If you have a Master's degree, that experience prerequisite is cut down to six years or 9000 hours, with at least four of those years being in the past twelve years.
If you have a Doctoral degree, the experience prerequisite is further reduced to four years or 6000 hours, with at least three of those years being in the past twelve years.
This certification is also valid for five years. GPM-m application costs USD $999 for GPM members and USD $1,199 for non-members.
Next step: Building a Sustainable PMO
Sustainability cannot simply be in the hands of a select few individuals and project managers. It needs to be an organisation-wide initiative. And who better to get things changing and moving in an organisation than the PMO? Learn more about the rise of Sustainable Project Management with our Complete Guide and learn more about pmo365's efficient, integrated PPM solutions here.