As the corporate world places greater value on sustainability, the way we manage projects will inevitably reflect this. A Stanford article suggests that nine out of ten CEOs believe focusing on sustainability is critical to the future success of organisations. Closer to home, we'll see this change both the projects we manage, and the processes we use to manage them. In this article, we'll explain what sustainable project management is, and how to best successfully adapt to this approach.
How is sustainability changing project management?
As early as 2008, Tharp and Chadhury suggested that project managers (PMs) would be at the frontline of sustainability initiatives. They believed that project managers would bear much of the weight of this changed focus, something we now know to be true.
As a result, PMs have seen an increase in their workload. In addition to balancing the 'Iron Triangle' considerations, they also must take into account sustainability considerations. These considerations become more apparent to PMs when using the 3Ps (People, Planet, Profit) methodology. PMs can use this framework to qualify and monitor the social, environmental, and economic impact of their projects.
Further, PMs often are responsible for ensuring projects comply with sustainability benchmarks. This role can include defining such benchmarks, or guaranteeing that projects are compliant with global standards. As executive teams maintain a focus on organisational sustainability, many PMs find that projects that include sustainability dimensions are more likely to be prioritised.
As sustainability increases its presence in our businesses, it's not just PMs who are affected. Many thought leaders, academics, and other professionals have created frameworks, environments, and cultures that encourage sustainable practices, which organisations are inclined to follow. It is from this culture that sustainable project management has emerged.
What is Sustainable Project Management?
There are many different definitions of sustainable project management floating around. Gilbert Silvius and Others provides their comprehensive definition:
".. the planning, monitoring and controlling of project delivery and support processes, with consideration of the environmental, economical and social aspects of the life-cycle of the project's resources, processes, deliverables and effects, aimed at realising benefits for stakeholders, and performed in a transparent, fair and ethical way that includes proactive stakeholder participation."
In simpler terms, sustainable project management includes developing processes that address both standard and wider social or environmental considerations. A key concept this definition makes clear is that sustainable project management is not one-size-fits-all. Each organisation will develop their own frameworks which serves their own needs and considerations. However, the fundamental factors present in all sustainable project management practices are the following:
The Triple Bottom Line or 3P perspectives of People, Planet, Prosperity (Profit)
A complete plan for a project's entire life cycle, from activities to the end output
Stakeholder accommodation ensuring needs are both met and managed effectively
Self-awareness and accepting responsibility for environmental contributions
An awareness of both the short-term and long-term impacts of all project activities and outputs.
Sustainable Project Management: A fundamental paradigm and scope shift
Silvius and Shipper suggest that sustainable project management is more than simply adding a new perspective to existing approaches. Instead, they believe sustainable project management is a paradigm shift that impacts the mindset and scope of projects, as shown by the image below.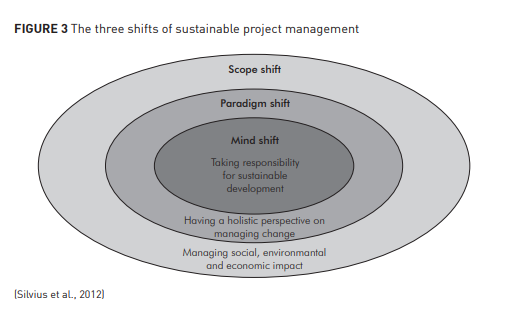 On a mindset level, sustainable project management involves shifting a PMs role from managing the time, scope, and cost of a project, towards taking ownership of sustainable development. PMs will develop themselves as sustainability specialists, and actively collaborate with different stakeholders. The personal ethics, transparency, and knowledge of PMs will play a significant role in their duties moving forward.
Projects are also shifting from the fundamental concerns of controlling project constraints of time, scope, and costs. In contrast, PMs are expected to take a sustainable approach towards flexibility, complexity, and opportunity. Change is not managed solely for the purpose of balancing the iron triangle, but rather, is managed through a holistic perspective. This means considering different impacts, outputs, and opportunities that aren't related to generating revenue.
In matters of scope, traditional project management typically only concerns itself with the contextual sphere of the project delivery itself. This contextual sphere is generally developed by the expectation of the organisation and stakeholders involved. Sustainable project management takes this to a new level. It expands the horizons of the project to consider future generations and considering its impact on society.
Project management is no longer about 'managing' stakeholders. Instead, it's about engaging with stakeholders in realising the sustainable development of an organisation and society.
Project management is experiencing a paradigm shift, and we can prepare to benefit from this change.
Sustainable Project Management Approaches
Sustainable Project Management is still an emerging space and it is set to grow in the near future. Though most methodologies include some sustainability considerations, it differs from sustainable project management approaches that ingrain sustainability into their very core. There are two prominent and comprehensive sustainable project management approaches at present: PRiSM and P5 standards by Green Project Management.
PRiSM
The Project Integrating Sustainability Measures, or the PRiSM approach, is a principle-based methodology that integrates sustainability into the entirety of the project lifecycle. It predominantly leverages existing organisational systems to achieve unilateral sustainable benefits realisation. It achieves this through its clear focus on process and final product sustainability.
Built upon the P5 standards introduced by Green Project Management, it aims to reduce the ecological impact of projects through four key project phases. These include concerned groups, sustainability orientation, organisational orientation, and results.
Additionally, PRiSM functions on six core philosophies:
Commitment and Accountability
Ethics and Decision Making
Integrated and Transparent
Principles and Values Based
Social and Ecological Equity
Economic Prosperity
To learn more about the details of PRiSM, and what it looks like in action, check out our post on the PRiSM methodology.
P5 Standards by Green Project Management
Green Project Management is a global organisation that creates formal certifications for sustainable project management. It teaches both PRiSM, and how to properly utilise the P5 standards. The P5 standards intend to identify the impacts of project management activities on sustainability. From these impacts, the P5 standards encourage project managers to conduct informed decision-making and effective resource allocation.
It expands on the traditional 3Ps of the triple bottom line to include People, Planet, Prosperity (Profit), Product, and Processes. The expansion into product impacts looks specifically at the impacts throughout the product's lifespan and servicing activities. For processes, the framework aims to analyse the effectiveness, efficiency and fairness of processes upon the original 3Ps. These 5Ps are then further broken down into activities, and their impacts are measured across the board. Check out the image below to see the visuals of this: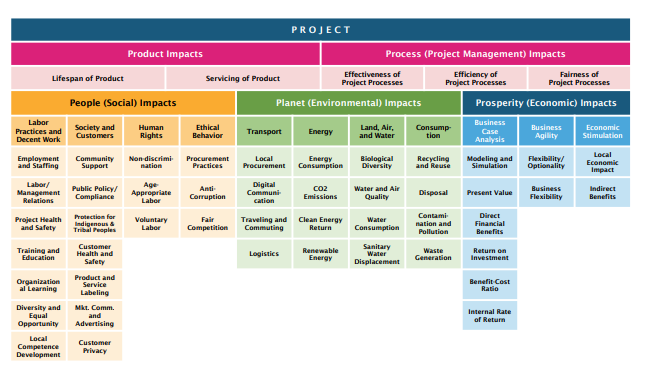 To read more about Green Project Management, check out our 7 Processes for Sustainable Project Management.
Get started on your sustainability journey!
We want to help you to develop your sustainable project management strategies. Check out our blog on becoming a certified sustainable project manager to get you started on the journey. To read more quality content on sustainable project management and the project management world in general, make sure to check out our Complete Guide to Project Management Sustainability.