You've heard about EPMOs, and you're ready to set one up in your own organisation. Amazing! We've put together an easy roadmap that will help guide you through this process. This is our EPMO framework, as well as our best practices for ensuring its success.
What is an EPMO?
Before we get to our EPMO framework, let's define what an EPMO is. The Enterprise Project Management Office (EPMO) is the strategic centre of an organisation. It operates closely with enterprise executives and key decision makers, providing enterprise-wide support for all project and process management initiatives.
EPMOs handle a wide range of tasks, including portfolio management, governance, stakeholder communication and management, risk management, and resource management. The EPMO's main purpose is to align all activities of the organisation to it's strategic objectives. It also ensures all projects in an organisation's portfolio are designed to add strategic value to the organisation.
EPMO vs PMO: What's the difference?
The key difference between EPMOs and PMOs is the level on which they operate. While PMOs typically focus on doing projects the right way, EPMOs focus on choosing the right projects. PMOs often run from a bottom-up approach, working on operational level with project managers. EPMOs are typically top-down. Their activities are based on organisational strategy, and so the team will work closely with directors and business stakeholders.
Here's a quick table to help you visualise the different roles and activities between a PMO and EPMO: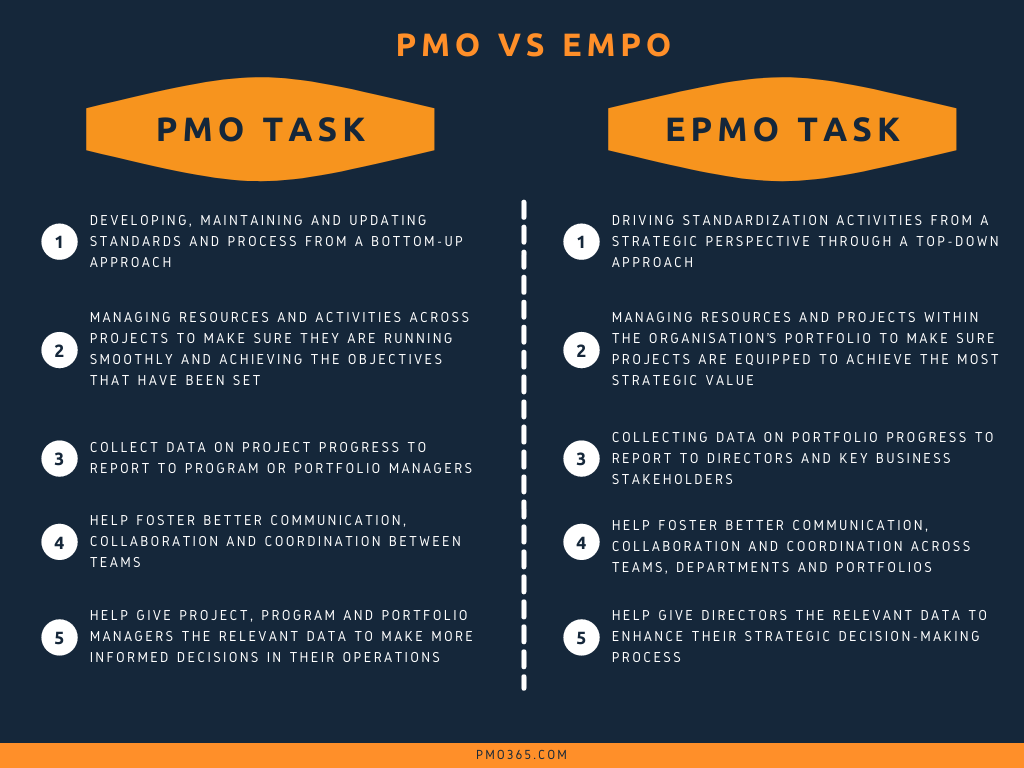 Do you need an EPMO?
Most organisations will benefit from a PMO, but not all organisations need an EPMO. The organisation's size, industry, complexity, and maturity will determine whether setting up an EPMO will contribute value to the organisation.
However, you may want to consider establishing an EPMO if:
Your PMO is running on a vague direction and mission
PMO resources are being under-utilised
Project performance rates are low even with increased costs
Your projects are lacking alignment with enterprise-wide strategy
The Two Common EPMO Frameworks
There are two common approaches to establish EPMOs: the internal staff augmented model and the outsourced professional service model.
In the internal staff augmentation model, the EPMO team is made up of pre-existing employees. It's built from the ground up from within the organisation. This model is best suited for organisations who have employees with EPMO experience, or who have strong, pre-existing PMO activities. Thus, the EPMO framework would reinforce pre-existing organisational processes. It will also form a stronger chain of command, and a clearer decision-making process in the organisation.
The other option, the outsourced professional service model, means the organisation will bring in an external team to build their EPMO. The team can either train and mentor the organisation's pre-existing staff, or completely manage all the EPMO activities for them. This is most effective when an organisation does not have pre-existing PMO expertise, or the specific skill set to form an EPMO. The immediate benefits include the new perspectives skills that would build a stronger EPMO from the ground up.
Both models have their own benefits and disadvantages, that will vary depending on your organisation's context and objectives. There's no one-size-fits-all approach to EPMOs, so choose according to the skills and needs of your organisation.
8 Steps to Setting up an EPMO Framework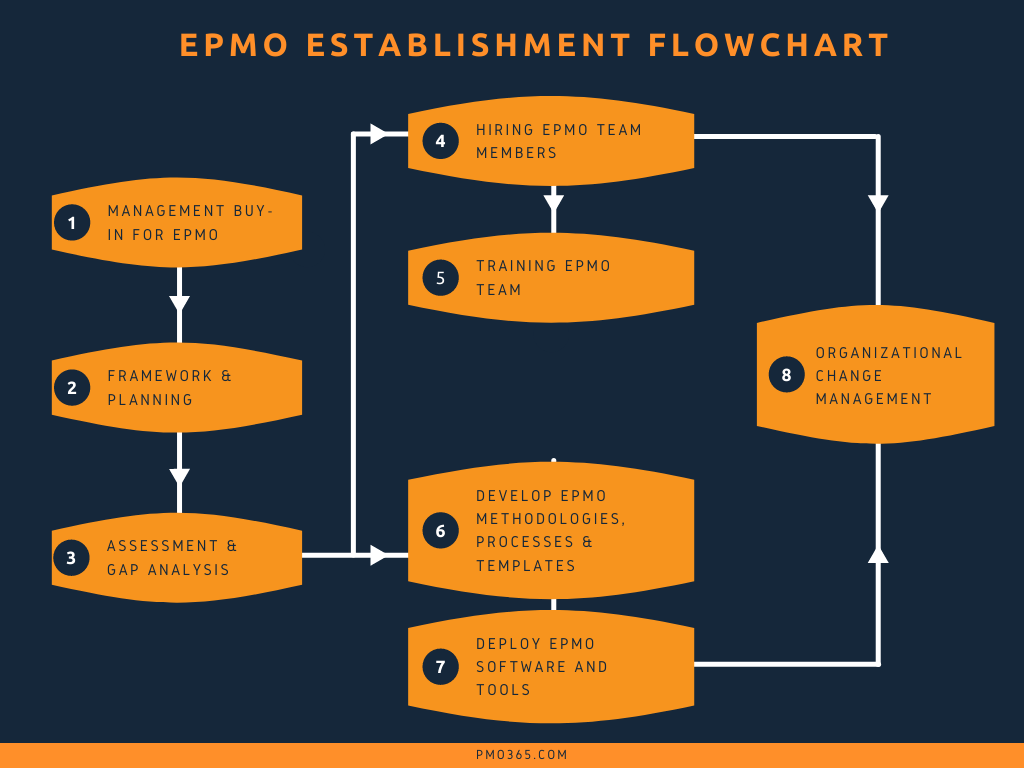 1: Establish management buy-in for the EPMO
As the EPMO is a strategic function, the directors should be leading the creation of the EPMO. Because the EPMO can lead potentially massive changes across the entire organisation, it is important to have the backing of directors and key leaders to ease the change process.
Communicating the clear return on investment of the EPMO will make the process of establishing management buy-in simpler and easier. Therefore, gathering and quantifying the beneficial value of an EPMO will not only help get management, but other employees throughout the organisation, on board with the EPMO.
2: Set up the specific EPMO framework and planning
At this stage, the EPMO should have set foundational goals, and a vision and mission. An organisation's strategic objectives should align with the EPMO's goals, vision, and mission. When communicating these key goals and objectives to stakeholders, an EPMO charter document can be particularly helpful. This document will help build the framework and process for the EPMO establishment process.
3: Conduct an organisation assessment and gap analysis
To ensure the EPMO is tackling the right issues, it's important to assess the organisation's current capabilities and needs. From there, the EPMO can evaluate current project management practices, organisational readiness for change, and organisational environment. This will define the gap between the organisation's current position and where they want to be. The EPMO can then identify the amount of effort needed, and establish the steps to be taken to achieve these goals.
4: Hire your EPMO team members
As mentioned above, you can hire EPMO team members both internally and externally. This will largely depend on the context and objectives of your EPMO, and if your organisation is equipped to fulfill the EPMO's function with the right talent and skills.
Some typical roles within an effective EPMO include:
EPMO Director
EPMO Manager
EPMO Analyst and Coordinator
EPMO Trainer and Coach
5: Develop EPMO methodologies, processes, and templates
The project management methodology which your organisation utilises will direct how the EPMO shapes its processes. It's important to note that there is no one-size-fits-all methodology. Some methodologies are better than others, depending on your organisation's structure, needs and objectives. The typical project management methodologies fall between a spectrum of agile to waterfall. You can read about these methodologies, and which is the best fit for your organisation here.
Once a methodology is chosen, EPMO activities and projects can be structured, documented, and communicated clearly. This can include flowcharts, step-by-step documents, and clear frameworks. From there, the EPMO can create a standardised template which all teams and projects in the organisation can use.
6: Training your EPMO team
This step should be taken after the EPMO methodology, processes, and templates (step five) have been selected. As EPMOs need to handle a wider range of complex tasks than a typical PMO, they may need to use certain features such as resource management and cost management with added complexity. Teams may need additional training to ensure they are able to use the preferred PMO practices and processes with their PMO software to bring out their full capabilities.
7: Deploy your EPMO software and tools
Picking the right project portfolio management tools and software is critical for an effective EPMO. It's easy for your EPMO to get lost under the mountain of tools and features offered by PPM or EPMO solutions. The simple fix is establishing a clear criterion of what your EPMO team needs, and choose a solution accordingly. There's no point in having complex tools if they don't achieve what your EPMO needs to accomplish. To help make sure you're picking the right PPM software for your EPMO, we've created an introductory guide for PPM software, so you find the best fit for your team.
8: Implement organisational change management
Establishing an EPMO often means big change. Once all the steps, processes and tools are in place to build the EPMO, managers should create a clear change management strategy. This can greatly reduce resistance, and ease the change process across the organisation.
A simple way to do this establishing communication between the EPMO and various teams in the organisation. This is especially helpful during the change process. If the EPMO ensures that it actively hears and values opinions, it is more likely to generate meaningful benefits and support for the organization. The level of organizational investment in the EPMO depends on how effectively it communicates its value to all stakeholders.
You may have noticed that these steps are somewhat similar to how you set up a PMO. The key differences lie in the focus of these bodies. EPMOs have a focus on strategy rather than project or portfolio management. At the end of the day, the overlap between the skills required to be on a PMO and EPMO is significant, and experience in one will complement the other.
As illustrated in the flowchart above, these steps are not strictly sequential. Your organisation may shuffle them around, or have more than one step being enacted concurrently. The most effective EPMO framework is the framework which fits your organisation's needs and objectives.
pmo365 helps you build an effective EPMO
EPMOs, much like any part of the project management realm, are complex and nuanced. You, like many other project and portfolio managers, may find a PPM solution revolutionary to your organisation. pmo365, a custom-built PPM solution, has provided hundreds of EPMOs greater visibility and control. Book a free demo to see our solution in action here.